BIOTIC AUTOMATIC GOAT FEEDERS
Biotic's automatic LAC-TEK provide an effective solution for large and small-scale goat farming. Biotic feeders help support the healthy development of goats through a system that supports their natural feeding instincts – while saving time, reducing costs, and improving goat viability.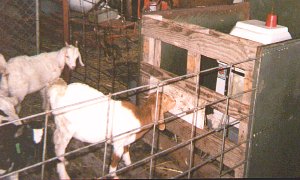 Increased Milk Yield
Research shows that the early removal of kids (within 12 hours) from a milking herd can increase milk yield by 30-40%.
•    Biotic automatic LAC-TEK support the early removal of kids from milking herds by providing a feeding solution that seamlessly supports a kid's natural feeding instinct.
Stronger, More Viable Kids
Biotic automatic LAC-TEK offer a smart solution for feeding kids in large litters (3-4). Our feeders also provide a solution for breeding herds where valuable kids may be orphaned or milk may be at a shortage. Biotic automatic goat feeders offer the benefit of natural feeding, including:
•    Continuous milk access gives kids ability to feed at will according to their natural instinct.
•    Adjustable milk/powder ratio (strength of milk adaptable) allows weight and health monitoring for each kid, and supports natural weaning process.
•    Biotic feeders let kids feed at their own frequency and volume according to their natural instinct.
•    LAC-TEK help ensure kids move around freely, resulting in animals with better muscular development, form and meat quality.
•    Biotic feeders support healthy kid development by allowing kids to drink warmed milk by means of a nipple – supporting the instinctive suckling action critical to normal digestive functioning, nutritional absorption, and overall health.
---
Through respect for the animals' natural behavior, this method offers spectacular results
unequaled by any other raising system.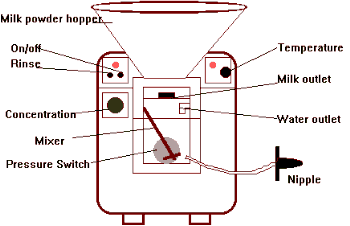 Reduces Labor, Increases Efficiency, Saves on Costs
Biotic automatic LAC-TEK provide an on-demand feeding system that saves time, reduces manual labor and generates cost savings.
•    Each feeder supports as many as 80 kids or as few as 3 or 4, and training kids to use the feeder is quick and simple.
•    No mixing by hand – Biotic feeders are fully automatic.
•    Significantly reduces labor costs & saves time – LAC-TEK automatically manage feeding with minimal manual labor required. Just five minutes per day for cleaning and monitoring are needed.
•    Install anywhere – Biotic feeders can be located in any type of building and only need connections to electricity and running water.
•    Decreases product cost – LAC-TEK help eliminate excess product waste and decrease product cost by mixing only the amount of milk or milk replacer necessary for each animal.
Click here to see our Automatic Goat Feeder products.